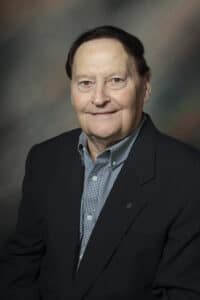 Roland Higgins
Realtor
"I'm a people person. My wife Terri and I have thoroughly enjoyed our wonderful friends and neighbors here in Sunbury."
Roland Higgins joined Forman Realtors in January, 2016. He has lived in the greater Sunbury area all his life. With his family, he operated a dairy and grain farm and has developed strong connections and deep knowledge in rural properties. Roland's buyers and sellers benefit from his networks and expertise.
He became a realtor in the late 1980's and has skillfully represented clients through many farm and residential transactions in Central Ohio. He has served on the Delaware County Board of Realtors as president and vice president, and he has chaired numerous committees. Roland's regularly been awarded honors in the Million Dollar Club. He also served as the Trenton Township Trustee for nearly 20 years.
Roland cares about quality and the improvement of our community. He's also very proud of his family. He and his wife, Terri, cherish time with their children and grandchildren. Roland's son, Scott, is President and CEO of the American Dairy Association and Dairy Council Mid East. His son Rodney is the owner of International Mailing Systems in Dayton.
Roland's Favorites:
Traditions: Baking cookies with the grandchildren at Christmas
Memories: Farming with his father
Restaurant: The Top, with his wife Terri
Service: Serving as the Trenton Township Trustee