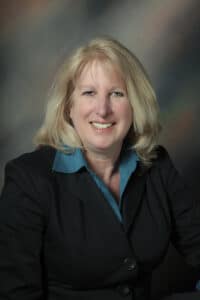 Jennifer Fielding
Realtor and Office Manager
Jennifer Fielding joined Forman Realtors in June of 2002. She's lived in Knox County for most of her life and has been in the Centerburg area for more than 30 years. Jennifer graduated with an Associates Degree from the Mount Vernon Nazarene College and brings well over 30 years office experience to the team. She earned her real estate license in 2014.
At Forman Realtors, Jennifer is daily applauded for her ability to make complex processes seem simple. She is the rock solid foundation for many projects and operations.
Jennifer Fielding is married to Bart Fielding, and they have three adult children; Stephany (Joe McGuire), Christopher (Ashton), and Stacy. They also have two grandchildren, Addison and Parker. Jennifer graduated from Clear Fork High School and has been a resident in the Centerburg area for over 30 years.
Jennifer is a member of the Centerburg Church of Christ.
Jennifer's Favorites:
Hobbies:  Gardening, raising livestock, attending local fairs
At home: Operating their mini farm
When out: Spectating sports
Enjoys: Being with family, friends, and country/farm life
In service: Member of the "Living Flag Group" that has participated in several central Ohio parades